When you seriously want to learn how to play the tote placepot and win it, naturally, you need to read this eye opener like your life depended on it! Winning a multiple of horse races like this is an amazing feeling.
While there are lots of different ways to approach it, the placepot is a relatively easy and fun way to put yourself in line for a handsome payout when all your selections come up! The prize you'll be aiming at is on average over £500 and can often exceed £1,000 so it's definitely worth a go.
And since this is something you can do on any race day, which is pretty much any day of the week except Sunday, you're never going to be without a ton of options to try your skill at predicting race winners and placed runners.
Right here is a good place to explain what it is to those who have never tried it before. That's so you'll have an understanding of the bet and how you can make the most of it for a given stake.

Placepot is basically a pool bet operated by the Tote. The goal is to select at least one placed horse in each of six consecutively run races at any given meeting on the day. These are usually but not always the first six races of the meeting.

The place positions will depend on the number of horses running in each race, but generally the first, second or third horse will count in each race of the six. Right away, you can see that gives you a lot of winning chances with 18 possible placings in six races.

The winner's payout comes from a pool created from all the money collectively bet on the day's placepot. From that pool a 28% deduction is made to cover administration and to return some of the money into the sport. The remaining 72% is paid out as winnings, divided between the winners on the day.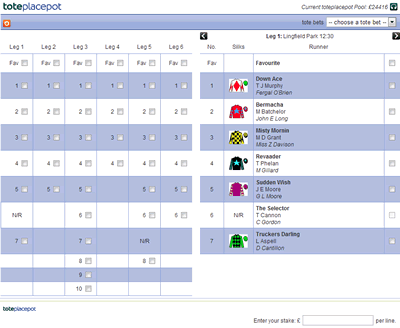 Choosing which horses to include on your card is the make or break decision you'll have to make when you play this game. While it may look as simple as taking a pin and stabbing a name in each race on the card, the savvy bettor will engage his skill and knowledge of the sport to his advantage.

Now we all know that it doesn't matter how knowledgeable you might be, it doesn't guarantee you'll always be able to post the winner in each race. If that were the case, you wouldn't be reading this how-to guide, you'd be lying on a beach in the Bahamas or flying off in your private jet someplace!

For us mere mortals, there is always the element of chance that will produce a winner and indeed the finishing order of the horses in any race, no matter how in-form any particular horse/rider combo might be on the day. But you can use what you know to choose the horses with the most likely chance of being placed in each of the six races.

Don't make the mistake of going for the favourite in each race and then choosing a second with really long odds as an "in-case" backup. There are better ways to select likely placings, which is what you're after in this game and not necessarily winners or rank outsiders.

You need to select horses that have a current form that includes being placed in several recent races. They have a good chance of continuing that form and being good bankers for your day's choices.

Do this in preference to horses that have one or two recent wins with the rest of their results not being placed at all. These may have a better chance of winning but also a better chance of not being placed and therefore not such reliable choices for placepot.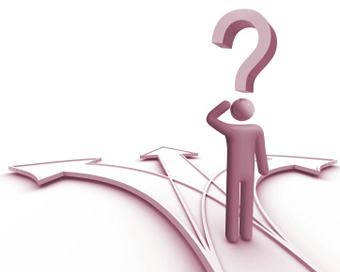 The easiest way to bet on placepot is to do the most popular bet which is to select one horse in each race and then choose how much you want as your stake. That's easy all right but where's the fun in that?

You can up the ante by perming your bet to increase the chances of winning by covering more runners in each race. You can pick as few or as many in each race as you want this way, but obviously the more selections you make, the more lines you will have to pay for and the price grows alarmingly fast!

For example, say you wanted to choose two horses from each race. That isn't just 8 lines (you don't add, you multiply). So you'll actually have 2 x 2 x 2 x 2 x 2 x 2 = 64 lines. At the lowest 10p per line stake, that's a very affordable £6.40 to bet which you can probably afford to increase for a bigger payout if you choose correctly.

You can also perm different numbers of horses in each race. This is useful if you have studied the form and decided there are several very good possibilities in one race but only one or two in another.

You could end up with a calculation that looks more like this: 3 x 5 x 4 x 2 x 3 x 2 = 720 lines. That would cost you £72 at 10p a line.

While you'd be covering more choices and have a better chance of finding one or more winning combinations, you still have to win enough to cover your initial stake plus something of a profit to make it worth your while.

The art of winning with placepot is in knowing your horses inside out and also knowing when your bet will exceed the probability of making a profit.
One of the best ways to bet on the placepot is via one of the major bookmakers with a big online presence, like Betfred or William Hill for example, or go direct with Totesports and sort of cut out the middleman if you will.

Just so you can do that, below is a handy link that will take you direct to the Totesports site where you can see all the runners in each race for this daily bet:




PS: If you are not already a member, signing up and depositing some cash into a secure account is really easy on that site. Once you have an account, it's simply a case of studying the form and when you have made your selections, filling out the card and putting on the bet using the money in your account as the stake.

It's all pretty easy, really!

Back to Top