Making deposits and withdrawals from an online casino account is made easy thanks to the online payment methods that are accepted by most online gambling websites. Here in this article, we take a look at the major payment processors and how they can benefit the user in many ways.
Being one of the world's largest financial institutions, American Express is well known for the charge and credit cards that bear its name, as well as traveller's cheques that are accepted the world over. For making payments to an online casino account, a credit card is one of the easiest.

Currently, with many online casinos not accepting US players and the ban on transactions being accepted by US financial institutions, there are few online casinos still accepting AMEX as a payment method. Sites that still accept AMEX include the Rushmore, Cherry Red and Rome Casino.
Having been operational since 2004, Click2Pay has been steadily growing into a major online payment method accepted by most online casinos and the processor of choice for a huge number of players. This processor falls into the category of secure web e-wallet which is a method by which funds can be channelled through from credit or debit cards direct to the end user, in this case the Internet gambling site.

It is a simple task to pre-fund a Click2Pay account with cash from a credit card or ACH which ensures that funds are instantly available to transfer into a casino account. It is similarly simple to withdraw winnings from a casino account into the Click2Pay account.
One of the fist ever credit cards to be accepted by a wide selection of retail outlets is Diners Club, which has been around since 1950. As a means of funding an online gambling account, it is similar to the American Express charge card where the outstanding balance must be repaid in full at the end of each month.

Diners Club provides a simple, fast and effective method of funding an online casino account. As with AMEX, its use is restricted in the US because of the current financial laws in place, but it is accepted by places such as Casino Tropez and Rushmore.
For players who prefer not to use a credit or debit card, eCheck offers the security of a regular paper cheque with the simplicity of an online funds transfer from any US or Canadian bank account.

Accepted by many online poker rooms and casinos for funding accounts, eChecks are a popular alternative to plastic. Funds generally take two days to clear, which means they are not instantaneous like credit cards.
For use as an online money account, eWalletXpress is very popular among casinos and the players that use them. It provides the same service as an e-wallet providing secure and instantaneous funds transfers between online accounts and credit cards, debit cards, direct ban transfers and other end user accounts.

Some restrictions apply for this type of payment method. There is a $500 maximum and $50 minimum restriction for depositing or withdrawing to or from a casino account. Despite these limitations, this is a very popular method for making instant money transfers and most casino accounts accept this form of payment.
Originally branded as PaySpark, the company changed the brand to EZIPay and promoted their online debit card system for making payments. This enables players to make easy deposits to their casino membership accounts.

Most Internet gaming sites now accept EZIPay as a payment method, which makes it a handy alternative to bank debit or credit cards.
Owned by international credit card company Mastercard, maestro is an internationally accepted debit card. It enables users to make funds transfers from their bank to a wide variety of end users such as e-wallets and online membership accounts.

Transfers are secured with a PIN and carry all the expected security features of the world's largest and safest banks. All funds are instantaneously available for making payments, which makes this a popular method for depositing funds into players' casino accounts.
One of the world's most widely used credit cards, Mastercard provides users with an instant, secure means to make online payments to a huge number of accepting sites. This quick and hassle free way to make payments online makes this card a very popular item in gaming player circles.

However, because of current US financial laws regarding online gambling sites, there are restrictions for US players and only a few casinos will accept them. Players around most of the rest of the world have no such limitations and may use this credit card freely at the majority of online casinos and poker rooms.
If you need a fairly simple and highly secure way to deposit money into an Internet casino account, money orders are one such option. Not as convenient as other online payment methods, because it means you have to physically visit your bank and fill in forms, it is still used by some players for its simplicity and where other methods are not available to them.

Most online poker rooms and casinos accept money orders, although there will be a delay on funds reaching your account and this will vary from site to site. This limitation is often viewed as minor by players that use this method as it is one of the few ways that you can transfer funds without any risk of identity theft.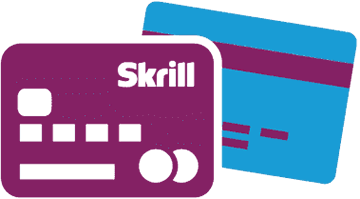 One of the biggest UK registered online payment companies is Skrill (Moneybookers). It is rapidly becoming the ewallet of choice for European players as well as many others around the globe.

This method provides a secure, fast and easy method of transferring funds between a bank account or credit card and a third party such as an online casino or poker site account. It is accepted by almost all reputable online gaming sites making its appeal widespread and popular.

It is very popular amongst players as well as casinos for depositing and withdrawing funds from accounts quickly and securely. One major benefit that comes from using this option is that it is possible to fund a casino member account without needing to disclose credit or debit card account details.
In existence since 1999, myCitadel has been a firm favourite among players as a means of transferring payments for many years. Having offices in the UK, Canada and Malta, myCitadel acts as an e-wallet for transferring funds from a bank account or credit card to an Internet casino player account without needing to disclose account details to either entity.

Funding a myCitdel account is easily done with a credit or debit card or an ACH if that is preferable. This enables instant transfers to a player account any time 24/7.
Another popular British based online payment method is Neteller. It was created in 1999 to provide secure online transactions and soon accepted by most online casinos, bingo rooms, poker rooms and online sportsbooks as their preferred method of online payment. To date Neteller is one of the most widely used payment methods for online gamers in the world.

Its main benefit is enabling players to transfer funds between their bank account and casino account without needing to disclose details to either, making for a highly secure and private means of funds transfer.
Another alternative way of funding an online casino player account that is secure and private is by using the pre-paid debit card provided by Pay Safe. Originating in Germany and Austria, this payment method enables players to make payments without risk of exposing their bank account details.

Cards are easily purchased with funds already loaded from a minimum of €25 to a maximum of €100. Those funds may then be used to make deposits in a casino account without ever needing to disclose bank details. This is a payment method that is being accepted by more and more casinos and online bingo and poker rooms.
This is one of the world's best known and largest credit card companies. These cards are used by millions of people every day to transact billions of dollars in purchases and funding accounts and other financial entities.

Among Internet casinos and poker rooms this card is almost universally accepted outside the United States, although current legal restrictions prevent most igaming sites from accepting it as a payment method for US players.
This is a payment method that has been around almost as long as there have been banks and telegraph communications. It is a slower but secure means to transact funds transfers between bank accounts and third party accounts.

The slow speed of funds transfer makes it less popular with players as several days can elapse before funds reach a deposit account using this method. However, the advantage is that there is no risk in revealing credit or debit card information online. This method is widely accepted by gaming sites for funding accounts and making withdrawals.

This is not by all means an extensive list of online payment methods, although it covers the most popular of them. See individual gaming sites for details on which they accept as this will differ from site to site.

[Back to Top]